PALACOS® Bone Cement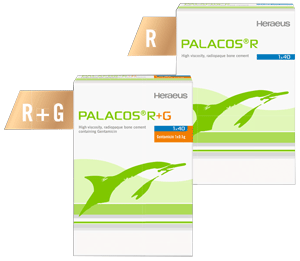 THE ORIGINAL. MADE IN GERMANY.
Trust in Green.
PALACOS® R is a high-viscosity bone cement. With raw materials of consistently high quality and a proven formula, PALACOS® cements have made a positive contribution towards successful surgical interventions for over 50 years. Characteristically green in colour, PALACOS® contrasts optically with the surrounding tissue and thus facilitates easier handling during surgery.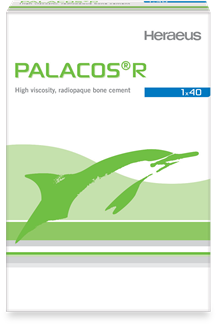 Low Revision Rate (1)
Clinical documentation reveals longer survival rates of implants that have been anchored with PALACOS® cement. Compared with other cements, far fewer revisions are necessary after 10 years for implants cemented with PALACOS®.
Benefits of Antibiotic Prophylaxis
All PALACOS® cements are also available with added Gentamicin. The local release of the antibiotic minimizes the risk of infection in the implant with reduced systemic load (2). Today, PALACOS® R+G is known for very low revision rates in cemented endoprostheses (3).
Advantage
■Gold standard in arthroplasty
■Reliable working properties from a proven formula
■Low risk of revision due to the addition of gentamicin
■Suitable for vacuum mixing
■Approval Number / Product Name
23000BZX00172000 PALACOS R Bone Cement
30100BZX00180000 PALACOS R+G Bone Cement
(1) Malchau, H. et al.: Prognosis of Total Hip Replacement. Dep. of Orthopaedics,Göteborg University, Sweden 2000.
(2) Engesæter, L.B. et.al.: Antibiotic prophylaxis in total hip arthroplasty, University of Bergen, Norway 2003
(3) Herberts, P. et al.: The Swedish National Hip Arthroplasty Register – Report 2004, Department of Orthopaedics Sahlgrenska University Hospital, Sweden 2004.